On My Way Out the Door
A lot of you, like me, probably watch The Real World. If you watched the Philly cast or currently airing Inferno II, you probably know Landon. And you might know that I am in love with him, lol. Some of you may know that Landon is now modeling for Wax brand underwear. A lot of people wrote about it before I got a chance to...and I hate writing about the same thing other people have. I feel like I missed out on something and they probably wrote it better than I could. So, most of you have seen this picture: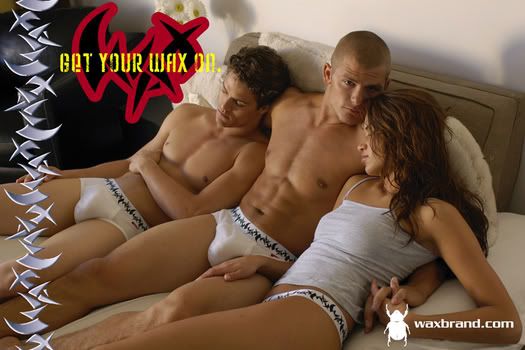 It's been all over the internets in the past couple weeks. A nice boy e-mailed it to me and I meant to write about it, but I was busy and by the time I got around to it, everyone else had a write-up posted. BUT...now I found this picture: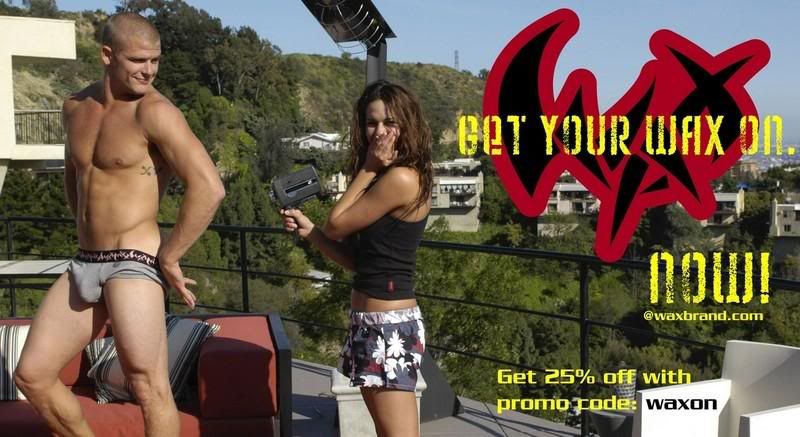 And I have not seen it out there before. Oh dear, where do I start with my love of this man's body.
The shaved head. I am a sucker for a shaved head on a fit boy...it's a new attraction for me and I am not quite used to it.
Chest/Abs. I can imagine what they would feel like to lay my head across at night in bed...kisskiss.
Tattoo placement. There is something about a tat on the side right there that gets me every time. Bam Margera had one there that got me all hot an bothered, too...until he covered the rest of his body with them, too.
'The Cut'. That little 'V' pointing you in the right direction. One of the most sensitive parts of a man's body...and one of my favorite.
Thighs. I couuld have those wrapped around my head at any time and be the happiest boy in the world.
Bubble Butt. It's not shown in these pics but it is in others...I have a little thing for butts. (A huge thing.)

You didn't think I was going to forget the most important part, did you? His underwear are, um, hmmm...how do I say this in a PG forum. "Filled to a pleasing degree" is good, I think. Oh, Fuck PG...I wanna rip those briefs off with my teeth and live off the contents for a week.
(I should, also, mention that the other guy in the top pic has nothing to be sad about, either...He is an extremely attractive boy and if any of you know him, you should give him my #.)
Anyway, I am headed out for Chicago. Have fun without me...chat amongst yourselves.