God, I am boring.
I haven't posted much this week. Because my sleep schedule was all fucked up, I haven't experienced much of the world, lol. We got back from Chicago late on Monday night and started back to work early Tuesday morning. On Thursday, I had physical therapy that I was not REALLY looking forward to. My therapy girl is Australian with the curly red hair that Nicole Kidman used to have...she actually looks a lot like Nicole Kidman. (We have a theory, though, that people with curly hair are crazy...red hair=bitch. So, she had 2 counts against her already.) Well, she threw me 18 different ways around the room...Breaking some bones in the process, I think. All the while asking me how it felt. My response was, consistently, worse than before.
Then she had me lay on my stomach and pulled down my PJ pants and started poking, prodding, pushing. She was leaving me no bit of self-respect. She finally got far enough that I blurted out, "You are dangerously close to places no man have ever gone before.....in a long, long time." We both got a hefty laugh out of that one...enough for the cute PT guy from the next room to come in to see what was going on...and got a great view of my ass, lol...So we laughed some more. Just when I thought she was done she wheeled in what looked like a torture device. She had me lay on my stomach while she explained that it was an electric shock machine. (I wasn't feeling any better about it.) She attached the electrodes to my lower back and turned it on. She said to let her know when I felt it. (I, of course, was expecting wild, trashing, convulsions.) A slight tingly sensation started in my lower back and steadily increased. It felt absolutely yummy. It was the best massage I have ever had. She came back after 15 minutes and asked how I was...My only response was, "How much?" I want one SO badly. It is now named the Magic Tingle Machine. (I get to go back 3 times this week...I am insisting on the MTM.)
On Friday night I stopped by the liquor store to pick up a 12-pack of beer...thinking it would last me the week. Nope...I drank the whole damn thing...and then got on the phone with Adam for some amount of time that lasted until almost 5 in the morning. Good thing I didn't have to work till 1:00 on Saturday...I was almost over my hangover by then.
WOW...lapse in concentration...I started this post at 2:00...evidently I forgot what I was doing because I just got out of the shower after mowing the lawn....an hour and a half later. I ADD'ed and forgot I was writing. SO, since I obviously have nothing else to say I will leave you with pictures of my favorite landmark in Chicago. It's not because the buildings are all that attractive...the look like hair curlers, actually...but, I always know where I am when I see them. I sometimes spend hours thinking about the people that live in them. Do they know their apartment looks like an old-school hot roller?
Day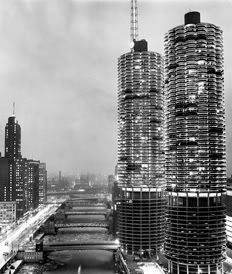 Night