Ugh, I think I just threw up a little in my mouth...
OK, so I made a couple little tweaks to the sidebar, including a new song. I did it all by myself...and I think I peed a little when it actually worked. OK, I won't lie...I did pee, but just a little. California Dreaming is dedicated to all my CA blog-buddies. (By the way, me finding out how to do this on my own does not bode well. Song of the Week may have worked when someone else was hosting my files and I was wholly dependant on them for working it. This could become Song of the WAIT, I Just Found This Great New Song...OOOH, Here's Another. I'll try to restrain myself...but I promise nothing.
I use Firefox as my web browser, as should you, but I know some of you (65% UGH) still use Internet Explorer. Knowing this I took a look at my page as you see it...No, it's not the same.
When you load my page in IE you see:
BUT, when you load it in Firefox you get this: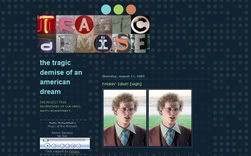 Everything is lined up the way it is supposed to be. It is supposed to be centered on the page, not spread from side to side. I am sorry for all of you on IE, but I don't know how to fix it...
SO, I will leave you with this
link
. Go ahead and click there, download FireFox and help me sleep at night by knowing that my page is looking as pretty as it should.