Bloat...
...or fat. I'm calling it bloat.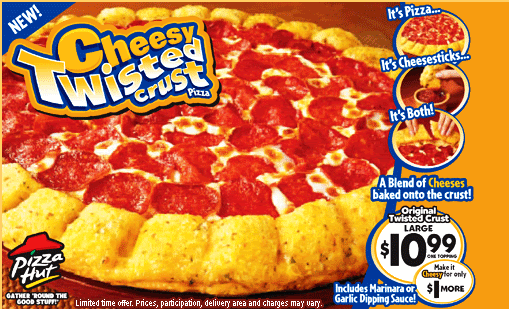 That is what I had for dinner tonight, (Well, not all of it...2 slices.) and I have never felt fatter. OK, well, I did also have a glass of milk and a brownie...but that was later and therefore does not count as dinner. (And considering my lunch was carrots and a Pop-Tart, I think i deserved it.)
I'm just a notch in your bedpost
But you're just a line in a song
So, I'm in love with Fall Out Boy. A couple years ago I heard a CD of a Chicago band that a friend of mine had. He had just been to one of their shows. I became obsessed with this one song, 'Chicago is So Two Years Ago'. Well...looky here...I'm watching MTV last night and I hear someone VERY familiar...well, whattya know...It's Fall Out Boy with a new single/album/video. Who knew...what I thought was a little Chicago band went and got all famous.
Nothing else all that exciting tonight...I have another day off tomorrow, so that's score.
Oh, on a sad note...A West Lafayette family (I guess that would be abbreviated WeLa if we were in CA) was leaving O'Hare airport and was hit by an alleged drunk driver. The parents and one of the children survived. Two of the children, Claire Hockerman (14) and Nathan Hockerman (5) died in the resulting fire after crash. While Lafayette and West Lafayette are growing cities, something like this still brings the community together like a small town. The family is from my old neighborhood in Klondike...and the children all attend the same schools my sister and I did. Let's just think about it the next time we are out for a few drinks. Maybe we had a few too many to drive home...the new legal driving limit for the entire country is .08 (now including MN). "Buzzed driving is drunk driving."
Look for more tomorrow.