The Bitches...The Dirty, Old Bitches.
Over at
J6 and FB
they hit 5,000 visitors today. Congratulations...er something. I kid...I kid because I love. I am a little jealous...just thismuch. I did have over 115 visitors Monday, though...that was exciting.
Oh, while on the subject...Who doesn't like the Golden Girls? No one...I know. Stupid question. GUESS WHAT...Lifetime is going to start airing Golden Palace next Monday night. Golden Palace? "What is that?" you say. Just the best bad spinoff/revival of a show in the history of human civilization. Tune in next Monday...I think it is on at 6:30 or something...check your local listings and all that.
Well, there you go: 6 dirty old bitches all in the same post. :).
***Bonus***
J6 just let me know that today happens to be Estelle Getty's 82nd birthday. Although she suffers from Parkinson's Disease, I am glad she is still alive and kicking. (Probably not so much kicking...it was probably a twitch that looked like a kick...sorry...still alive, though.)
Oh...This poor woman. I read about her a few weeks back and I have been waiting for a chance to post her picture. She auctioned off space ON HER FOREHEAD (fucking moron) to the highest bidder. As usual, whenever someone auctions something retarded, GoldenPalace.com jumped in and got it for a measly few hundred thou. So now this woman gets to walk around wearing this for all to see. (I am not sure what the website is for, because I REFUSE to click there. REFUSE!) Anyway, maybe she can get the '.com' lasered off and just pretend she is a wicked big fan of Golden Palace. Maybe? Yeah, probably not. Oh well...I hear bangs are making a comeback.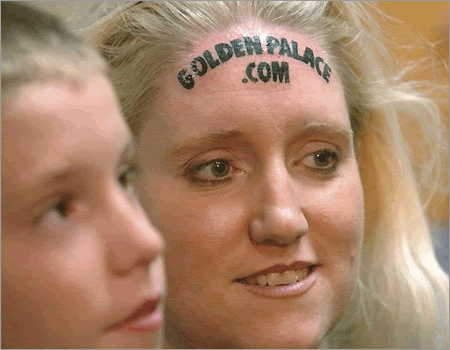 [And, if anyone is counting, that does bring the official tally up to an official, record breaking, SEVEN dirty, old bitches in ONE post. Two words for you: BOO & YAH. BOOYAH!] ok, i am done now.