25...Halfway Done
So, here is it at noon on my birthday. I don't remember the last time I felt this depressed. I don't know what I was expecting to happen, but it didn't. This weekend is all up in the air trying to find a place to stay now that Joe backed out. (I don't blame him, the boy is in law school and working full time...AND still volunteering.)
I feel like I should have something life-changing to say today...I just wanna go back to bed. My grandmother (who is 75) announced to me today that I am 1/3 of her age. When I replied that I was also 1/2 as old as I ever wanted to be she got horribly angry and we yelled at each other for about 30 minutes. I don't ever want to be 75. or even 65. When I think about myself as an older man 50 is where it stops. I can't fathom being any older than that. It's just all downhill.
I've never had a lot of patience with anything in the world...let alone thinking I have to do this for another 50 years. Waking up and going to work every day...FIFTY more years of that? I don't think so. I'm tired of it already.
It's like have a really long paper due. I get going really well, then I stop and ignore it for a while, and then I need to be done with it so I rush and it ends up all crappy. If I knew I had to live to be 75, I would rush the end and it would be all crappy. Fifty is an age that I can get to. It's like a medium length assignment -- one you can complete with only a break for a snack and to pee.
I have several invitations to dinner tonight. I don't want to go to any of them. Not because I am too depressed to enjoy a night out, but because these people are all WAY more excited than I am about my birthday now. Here's my thing: if I am excited, please be excited with me, or at least for me. When I stop being excited, you have to, as well...otherwise I will be thoroughly annoyed with you and do all I can to avoid you. (Did I ever mention I am a little manic?)
So, enough about that...too depressing. Why don't you hop over to
Bex's
and take a look at her sassy sassy buck...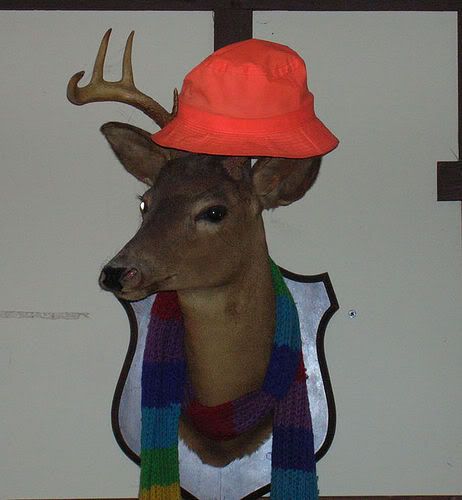 There are pictures of other deer parts, too...but, I won't show those here.