Well, It's Not the Donkey's Fault!
YAY,
look what I got in the mail today!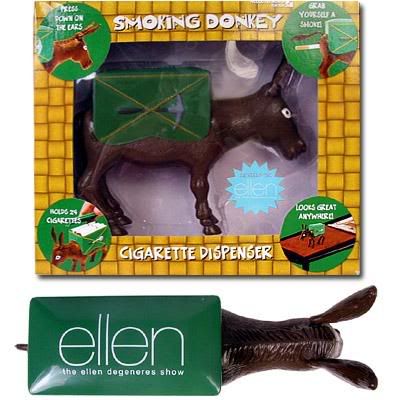 A belated birthday present from
Ami
. Well, pretty on-time for her...but belated nonetheless. I have been coveting the donkey cigarette dispenser for months. I think everyone needs a donkey that can poop cigarettes...even if you don't smoke. There is an elephant available, too...but we all know how I feel about Republicans. I don't think I can have an elephant in my house. I wouldn't want anyone to get the wrong idea, you know.
There was one other exciting moment in my day...when I got home this morning look what I found outside my window.
OK, I didn't take that picture, I googled it...but you get the idea. There was actually just one...a single, perfectly formed, yellow tulip outside. It was gorgeous...made me appreciate nature for a second. So, I yanked it up out of the ground, brought it in the house, and plonked it in a glass of water...it's dead now. :( But, I sure enjoyed it while it lasted.
(and yes, I do smoke...just trying to guarantee I don't have to live past 50.)